Regular price
Sale price
$16.00 USD
Unit price
per
Sale
Sold out
The "Lavender and Oregano Hand Sanitizing Gel" is a product designed to keep hands clean and disinfected effectively, combining the antibacterial properties of oregano with the relaxing aroma of lavender. This sanitizing gel is convenient to take with you wherever you go, offering a practical solution for cleaning your hands when it is not possible to wash them with soap and water.
Product Description:
Main features:
Antibacterial Action: Oregano is known for its antibacterial and antimicrobial properties. Its presence in the sanitizing gel helps eliminate germs and bacteria present on the skin of the hands, helping to maintain personal hygiene.

Relaxing aroma: Lavender is appreciated for its relaxing and soothing properties. Adding lavender to the gel not only helps reduce the unpleasant odor of disinfectant products, but can also provide a feeling of comfort and tranquility.

Fast Absorption: The gel is formulated to be lightweight and quickly absorbed, leaving hands dry and non-sticky after application.

Light hydration: May contain hydrating ingredients that prevent the skin of the hands from becoming too dry due to frequent use of disinfectants.

Frequent use: The sanitizing gel can be used several times a day to keep your hands clean, especially when you don't have access to soap and water.
How to use: Pour a small amount of gel onto your hand and rub your hands together until the gel is completely absorbed. Make sure you cover all parts of your hands, including the spaces between your fingers and nails.
This "Lavender and Oregano Hand Sanitizing Gel" is an excellent ally for maintaining an adequate level of personal hygiene, especially when you are on the move or in situations where you cannot wash your hands regularly. However, it is always advisable to use sanitizing gel as a supplement to regular hand washing with soap and water, especially when hands are visibly dirty.
Share
View full details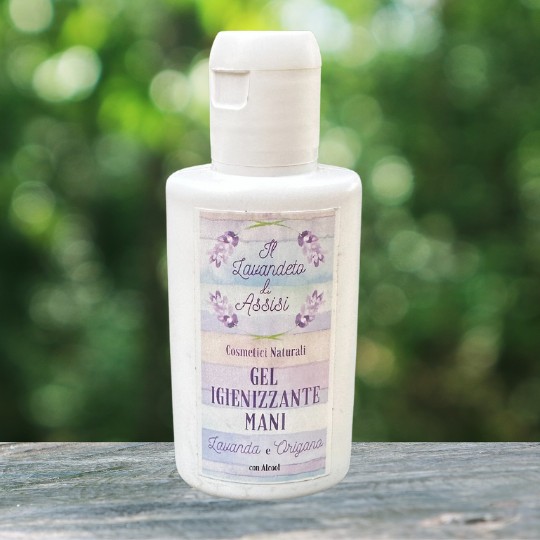 Lascia che i clienti parlino per noi
Festa di primavera e del giardino 20/21 25/26/27/28/29/30/ aprile e 01 maggio 2024