Who we are
Il Lavandeto Di Assisi is a nursery founded in 2004 specializing in unusual plants, lively perennials, lavender plants of many types, aromatic plants, herbaceous perennials, ornamental salvias, ornamental grasses, saffron bulbs, water lilies and aquatic plants and rustic water lilies.
It has been producing rustic, low-maintenance garden plants for 15 years now: plants resistant to heat, drought and frost and with very long flowering periods.
Il Lavandeto Di Assisi is a nursery selling plants online. Create online garden projects and renderings.
It is also possible to visit the park and natural gardens of Il Lavandeto Di Assisi by appointment, which allow gardening enthusiasts to see the plants in their natural development and thus choose the plants for their terrace and green space.
The natural garden is an itinerary for educational trips for schools, a tourist itinerary for private individuals and travel agencies who love greenery and who wish to visit Umbria and Assisi.
The Assisi Lavandeto created one of the first Italian laundries, in fact the first LAVENDER FESTIVAL was organized in 2008.
Every year visitors return to admire this beautiful scented spectacle with rows of purple, white and pink lavender with the stunning backdrop of Assisi.
The Lavandeto garden is very large and full of flowers of many varieties, and also includes two ornamental lakes, it is an ideal location for organizing birthday parties, events, celebrations and various events especially on summer evenings from May to October.
With the lavender harvested in our fields we create many lavender products, very well-kept lavender bags of all shapes, which you can purchase at our parties, or online or at our shops in Assisi.
Visit the lavender craft shops of: Il Lavandeto di Assisi, they are located in the center of Assisi. Via Portica 16 and Piazza Santa Chiara.
In the shops you can also purchase aromatic plants, lavender, sage and aquatic plants present in the shop; or you can purchase the plants in the shop via catalog and go and re-calibrate them in the nursery, in this case you will benefit from a promotional discount of 20% on plants, which will be given to you free of charge at the nursery in Castelnuovo di Assisi.
Our nursery online. Order now!
For sale lavender angustifolia or lavandula officinalis or true lavender, it is a small bush and is also called dwarf lavender. The lavender angustifolia bush is between 30 cm and 40 cm tall, this is an important difference with the hybrid lavender which has a height starting from 50 cm. Angustifolia lavender can be of many colors: white, pink, blue, light blue, lilac, being a true lavender it also multiplies by seed. It flowers from May to the end of June, if it is watered it will flower again. It produces a very valuable essential oil even if in small quantities. It is beautiful in any garden (it does not tolerate the saltiness of the sea) and is particularly recommended for pots or small gardens. Lavender angustifolia online sale. Our nursery has been producing and selling these lavenders directly since 2005, they are grown for 2 years in the ground then repotted or sold bare root from October to March. This saves plastic, labor, products and fertilizers, and transportation costs. These plants are very rustic and robust. Lavender angustifolia for sale online.
Regular price

Sale price

$0.00 USD

Unit price

per
Festa di primavera e del giardino
Festa dei prima primavera e del giardino 20/21 aprile e dal 25 aprile al 1 maggio 2024 Evento dedicato al giardinaggio e alla natura. Mostra mercato delle produzioni artigianali e delle produzioni florovivaistiche de Il Lavandeto Di Assisi
Dove alloggiare? Appartamento vacanze Assisi nel cuore, a 10 minuti da Assisi.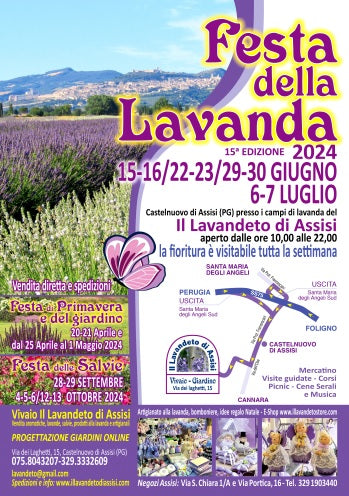 Lavender Festival 2024 weekend 15/16 and 22/23 June and 29/30 June 6/7 July 2024 from 10am to 10pm. Free contribution. The fields can also be visited from Monday to Friday (Euro 5.00) from 10am to 12pm and from 4.30pm to 7pm
Festa della lavanda Assisi. Week end 15/16 e 22/23 giugno e 29/30 giugno 6/7 luglio 2024 dalle 10 alle 22. Contributo libero. I campi saranno visitabili anche dal lunedì al venerdì (Euro 5,00) dalle 10 alle 12 e dalle 16,30 alle 19,00 
Dove alloggiare? Appartamento vacanze Assisi nel cuore, a 10 minuti da Assisi.
Lavender Festival 2024 Assisi
For 14 years now starting from 2010 in Castelnuovo di Assisi at the nursery / garden IL LAVANDETO DI ASSISI the LAVENDER FESTIVAL has been held. The lavender festival is an event with free admission, organized and financed entirely by our nursery which supports the maintenance of the fields and the costs of organizing the event with the sale of aromatic plants, lavender plants, salvias ... and lavender products. The flowering will also be visible on weekdays, in this house the entrance is paid. The lavender festival takes place in our 3-hectare garden created not only for the love of plants, but also for lavender, for this event that attracts people from all over Italy, and allows everyone to immerse themselves in a fragrant landscape amidst to nature and admire this beautiful spectacle: rows of pink, blue, purple, lilac, white lavender framed by the magnificent background of Assisi, the birthplace of San Francesco, a saint who infinitely loved nature. During the 4 weekends of the lavender festival: (the last 2nd of June and the first 2nd of July) it is also pleasant to stop in the middle of the fields and observe and photograph the flowering which will change every week. Nature lovers but also gardening enthusiasts will be able to stroll freely in the garden of ornamental sage, in the garden of medicinal plants, admire the lakes and participate in guided tours and lavender distillation. During the lavender festival in Assisi, our nursery will set up the garden with the plants produced by our nursery and gardening lovers will be able to buy the plants seen in the garden and the beautiful handicrafts filled with lavender flowers. At the Lavender Festival 2023 event you will find a refreshment point that will cook at the moment, groups can book lunch (directly at the telephone numbers indicated below) at the refreshment points. Fresh drinks and packaged homemade ice cream are present at our stand. Every Saturday evening at the lavender party picnic among the rows and music, the party will continue until 10.00 pm.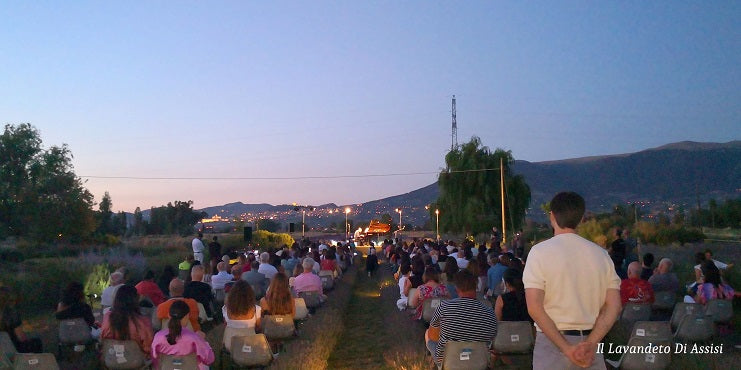 Online garden projects!
Request a project for your garden until 10/31/2023 is free. Send a photo to lavandeto@gmail.com and we will create a photomontage for you by adding our plants.