Sage and garden festival. Events Assisi October
IT'S GARDEN TIME AT LAVANDETO: SAGE FESTIVAL 30 SEPTEMBER 1/7/8/14/15 OCTOBER 2023
Events Assisi October 2023. Events in Umbria October 2023. Events in Umbria September and October 2023.
Floriculture market exhibition of the plant production of Il Lavandeto Di Assisi and lavender craftsmanship. Il Lavandeto Di Assisi opens the doors to the garden of perennials and flowering salvias and sets up the gardens with plants from its own nursery.
October, the month of Saint Francis, is the opportunity to come and visit Assisi and buy plants for the garden and terrace. In this period the plants will take root without any effort and the following spring they will be well rooted and thriving.
Program (concise) What do we do at the sage festival?
The space is over 3 hectares, entry is free and open from 10:00 to 19:00; you can arrive and leave at any time, there is no need to book, you can bring dogs if they are docile and on a leash. It takes place in our fields and gardens in Castelnuovo di Assisi, where you can walk and photograph in complete freedom (CHILDREN MUST BE SUPERVISED!!!). In our gardens you will be able to discover rare and easy-to-grow plants that have few needs and beautiful blooms. The Lavandeto of Assisi is a nursery specialized in certain types of plants and we have put them in the ground so that you too can discover them and give you the opportunity to plant them in your garden or on your balcony. We are able to give you advice based on experience, which is useful and valuable as, in addition to producing and selling them, we also grow them on the ground. At the sage festival you can visit the sage garden, the lively perennial garden, the aromatic plant gardens, the two ponds with water lilies, lotuses, aquatic plants, marsh and goldfish and gambusias and other gardens with perennials and grasses. Participate in the free guided tours without the need for reservations which take place in the morning (around 11.00 am) and in the afternoon (around 4.00 pm) Walk around and purchase plants from our collections, lavender crafts and discover our gift ideas for Christmas, which you can then also purchase on our e-commerce site. Sunday 15 October course on ointments and oleolite, herbal teas by advance booking only, 2-hour course, with teaching material held by Doctor Manuela Vaselli Tel 3495504752 Observe the distillation of the aromatic herbs carried out with a small still. Have lunch together with your friends and family
For lunch, a refreshment point is available every day:
On 30 September and 1 October BRACERIA T' ARROSTICO Tel 3518009103 will offer sage themed menus and barbecue menus upon reservation.
On 7/8 UMAMI BEER TRUCK Tel 392 2043500.
On 14/15 October STREET FOOD ELEONORA Tel 3920579518 will offer lasagna and parmesan menu upon reservation,
also street food every day with cake, sandwiches and fried foods.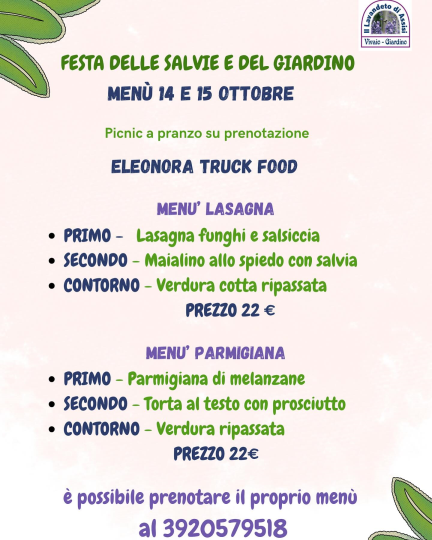 7/8 October 2023 Picnic lunch menu upon advance reservation. You can eat using the Lavandeto tables or bring a towel and eat on our lawns. Umami truck food Tel 392 204 3500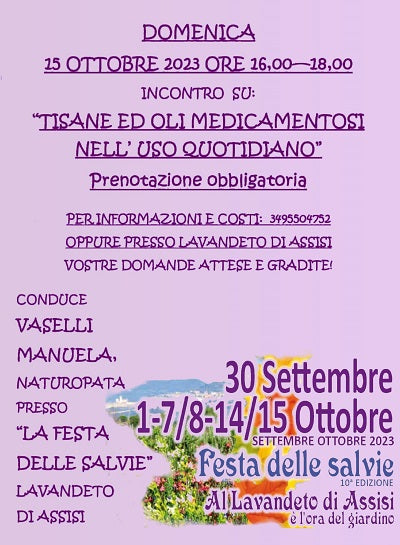 Herbal teas and medicinal oils courses. Tel Vaselli Manuela 3495504752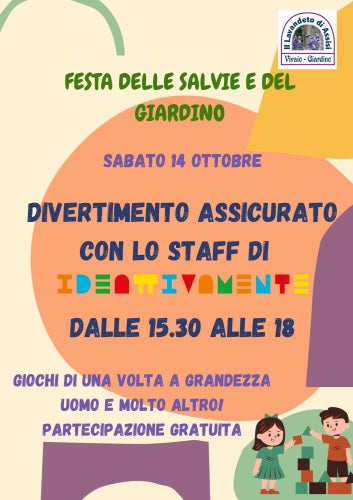 Sabato 14 ottobre 2023 Divertimento assicurato per grandi e bambini con IDEATTIVAMENTE che animerà i bambini con giochi di una volta a grandezza naturale. Vi aspettiamo, non è richiesta prenotazione.
Events Assisi October: Sage and garden festival. Every day guided tours of the garden of sage and lively perennials, asters and grasses. Explanations on cultivation in the garden and on the terrace, demonstration of distillation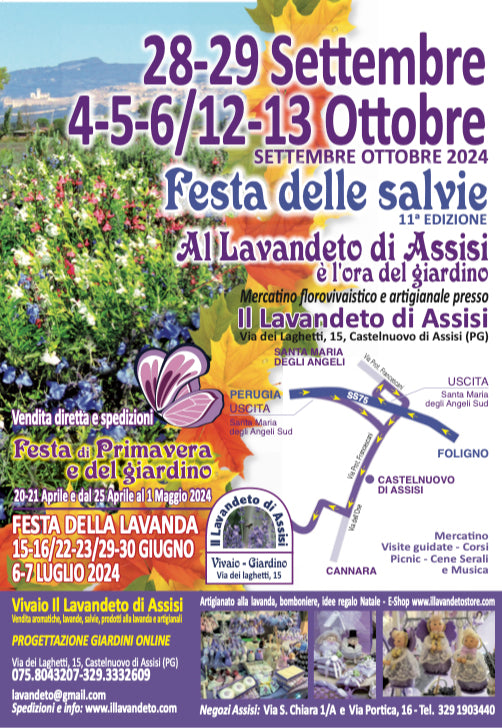 Events Assisi October. Market exhibition of plants and flowers of our production
Events in Umbria September and October 2023. Events in Assisi.
Date: 30 September 1/7/8/14/15 October 2023 AT THE LAVANDETO IT'S GARDEN TIME. The ideal season for creating a garden has arrived and IL Lavandeto di Assisi invites you to spend a few hours in its gardens and discover the beautiful perennial plants with long blooms to create your garden and terrace. You can buy plants for the garden at our flower market.
Market exhibition of plants and flowers of our production and our lavender craftsmanship. Refreshment point. Free admission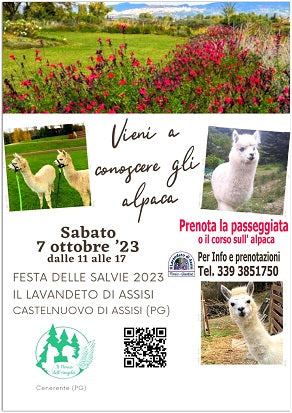 Discover the alpacas, Saturday 7 October from 11am to 5pm. Book the course to learn about the alpacas and their wool or the walk. Tel 339 3851750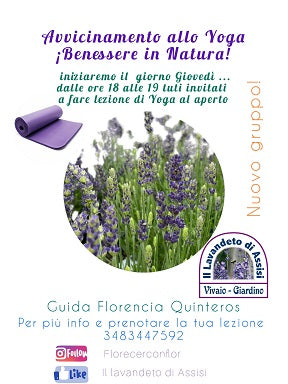 YOGA IN OUR GARDENS.
COME YOU TOO! WE FORM A NEW GROUP
Sage and garden festival September and October from 4pm to 5pm introduction to Yoga, guide Florenza Quinteros, we will create a new group. Call 348 3447592 or 328 6482716 or write lavandeto@gmail.com
At the sage festival yoga lessons Call for info 348 3447592 or 328 6482716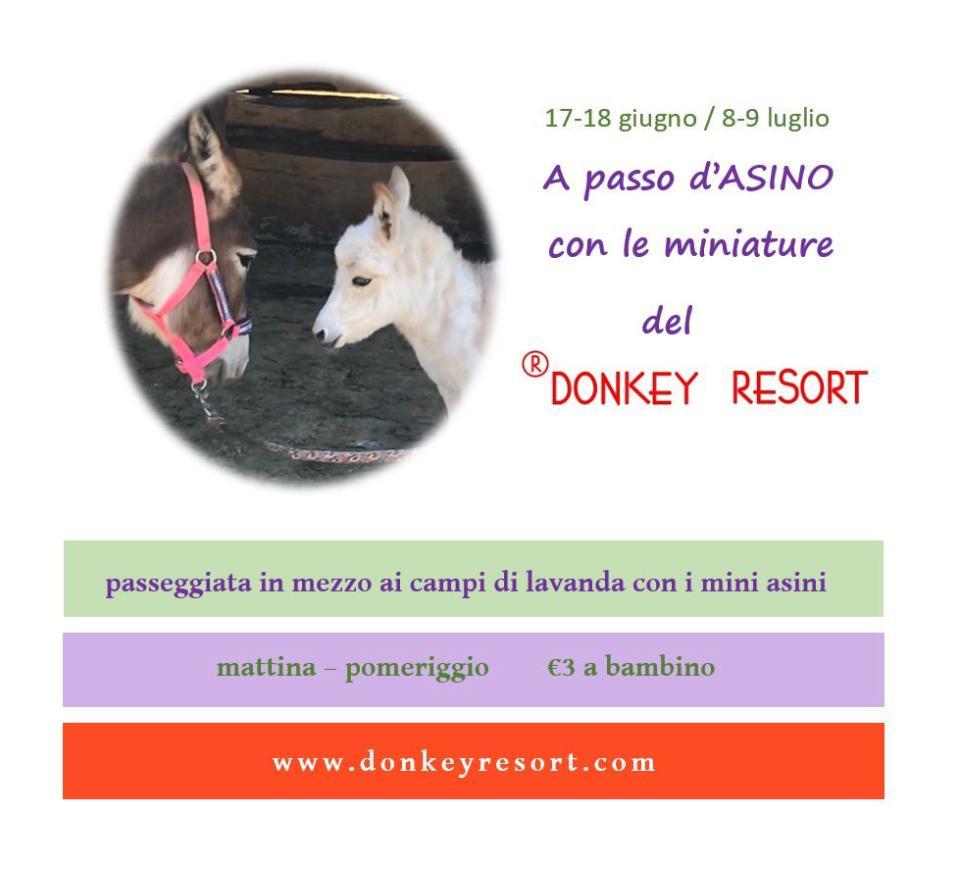 Donkeys and alpacas at Lavandeto.
This year for the joy of children but also of the big donkeys at the laundrette, on 17/18 June and 8/9 July. The alpacas, however, will be our guests on July 2nd from 10.30 am
Come with your family to admire the beauty of nature and spend a few hours immersed in the scent of lavender!
Where stay? Holiday apartment in Costano 7 km from Lavandeto
Photo by Federica Mari. Official photographer of the Lavandeto